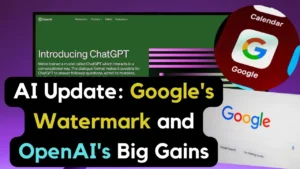 OpenAI: Google's watermark technology launch:– The world of artificial intelligence (AI) is constantly evolving, and this week has been no exception. From groundbreaking innovations to the ever-growing impact of AI on various industries, there is no shortage of exciting developments to discuss. In this article, we'll explore some of the most noteworthy news from the AI landscape.
Google's Watermark Technology
Google has launched a watermark technology that has the potential to revolutionize image verification. This technology ensures that images cannot be edited to remove the watermark, making it possible to determine if an image is AI-generated or not. This development is a significant step in addressing the issue of deepfakes, as it allows for the immediate identification of manipulated visuals. While it requires further testing, there is hope that this technology could become a standard across the internet.
Duet AI by Google
Google's Duet AI, introduced earlier this year, is now available for users at an affordable price of just $30. This AI can perform various tasks, such as extracting content from Google Docs and creating PowerPoint slides, charting data, replying to emails, and generating images. While ChatGPT offers similar capabilities, Duet AI focuses on integrating seamlessly with your Google documents and assets, making it a valuable tool for productivity.
AI's Mastery of Captcha
AI has made remarkable progress in solving Captcha puzzles, even surpassing human accuracy. This development challenges the effectiveness of Captchas in distinguishing between human users and bots. As AI becomes more proficient at bypassing Captcha protection, websites may face increased difficulties in identifying human users, potentially impacting data scraping and online form submissions.
Samsung's AI Recipe App
Samsung has launched an AI recipe app with over 100,000 recipes from around the world. The company aims to integrate this app with its smart fridges, creating futuristic kitchens where appliances seamlessly interact with AI-powered cooking assistants. This initiative highlights the growing role of AI in enhancing everyday experiences, including cooking.
Google's watermark technology launch: OpenAI's Revenue Surge
OpenAI is on track to exceed one billion dollars in annual revenue, driven by its ChatGPT platform. With over one to two million subscribers paying $20 per month for ChatGPT Plus, OpenAI has seen its monthly revenue soar to $80 million, a substantial increase from the $28 million reported in the previous year. This impressive financial performance has led some to consider OpenAI undervalued based on its earlier valuations.
Microsoft's Algorithm of Thought
Microsoft is exploring a groundbreaking approach known as the "algorithm of thought" to infuse AI with human reasoning. This technique has the potential to outperform traditional algorithms and offers new perspectives on AI development. Microsoft's commitment to dedicating 20% of its computing power to solving AI alignment problems by 2027 underscores the importance of responsible AI development.
AI-Driven Drone Racing
Swift AI, a company specializing in deep reinforcement learning, has used AI to defeat the world's best human drone pilot in 15 out of 25 races. Their research involved extensive trial and error in a simulation environment, ultimately leading to optimal drone racing commands. This achievement showcases AI's versatility and its ability to excel in various domains, from gaming to drone racing.
Doordash's AI Voice Assistant
Doordash has introduced an AI voice assistant for restaurant interactions. When customers call a restaurant, they will speak to an AI model instead of a human. This AI not only streamlines restaurant operations but also offers upselling opportunities. While AI-driven interactions can be efficient, they raise questions about the role of human connection in customer service.
LLM2: A Cost-Effective Alternative to GPT-4
LLM2, an AI language model, has gained attention for its accuracy, comparable to GPT-4, but at a significantly lower cost. This development highlights the increasing competition in the AI language model space, offering more accessible options for AI-driven applications and services.
Amazon's Acquisition of Fig
Amazon has acquired Fig, a technology company that specializes in autocomplete for the command line. This technology provides customizable suggestions and descriptions for developer actions, saving time and improving productivity. This acquisition reflects Amazon's commitment to enhancing its technology infrastructure.
 Chat GPT Enterprise
OpenAI has launched Chat GPT Enterprise, a private and secure version of its platform. This version boasts superior performance, with a longer context length of 32,000 characters and no usage limits. It has gained traction among Fortune 500 companies, offering a powerful AI solution for various business needs.
Anguilla's AI Domain Windfall
The Caribbean nation of Anguilla is set to earn up to $30 million this year, primarily from its domain registration of ".ai." The rising demand for AI-related domains has contributed significantly to Anguilla's income, potentially representing a quarter of its total revenue by the end of the year.
Google's AI-Optimized Infrastructure
Google has unveiled Cloud TPU5 vE and A3GA, aimed at striking the right balance between price and performance in AI infrastructure. These developments highlight the critical role of infrastructure optimization in making AI solutions cost-effective and scalable.
The world of AI is brimming with groundbreaking innovations, from Google's watermark technology to OpenAI's remarkable revenue growth. As AI continues to evolve and reshape various industries, it's clear that its impact will only continue to grow in the coming years. Stay tuned for more exciting developments in the world of artificial intelligence.
The impact of social media on kids' mental health: How to Protect Your Kids