Best time to visit germany :10 Reasons Why You Should Consider Moving to Germany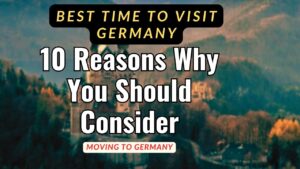 Best time to visit germany: 10 Reasons why you should consider moving to germany: Exploring the Seasons, Germany is a country with diverse landscapes and captivating seasons that offer unique experiences for travelers. Whether you prefer the vibrant colors of autumn, the festive atmosphere of winter, the blooming flowers of spring, or the sunny days of summer, Germany has something to offer throughout the year. In this article, we will explore the best time to visit Germany and the highlights of each season.
Autumn: Golden Days and Festivities
Autumn in Germany is a season of breathtaking beauty. The foliage transforms into a stunning display of vibrant colors, making it a visual treat for nature lovers. The weather is mild, with temperatures reaching over 20 degrees Celsius on sunny days. While occasional rain and windy days are expected, they do not detract from the charm of this season.
One of the highlights of autumn in Germany is the Oktoberfest, which takes place in Munich starting from late September. This world-famous beer festival attracts visitors from around the globe. Alongside Oktoberfest, many other fun fairs and events occur throughout Germany during September and October, making it an ideal time to experience the lively atmosphere and German traditions.
Winter: Magical Christmas Markets and Cozy Evenings
Winter in Germany is a time of enchantment, especially during the holiday season. While the weather can be brisk and cold, the festivities and attractions make it worthwhile. Christmas markets, renowned for their unique charm, are held throughout the country, offering visitors the opportunity to indulge in traditional food, drinks, and handcrafted gifts. Strolling through a Christmas market, sipping mulled wine, and savoring roasted chestnuts create a truly festive and warm experience.
Although snowfall is less predictable than in the past, winter still holds its allure. Outdoor activities such as ice-skating and ice hockey are popular, and some regions even have designated ice skating rinks in city centers. It's important to check the safety of frozen lakes before venturing out for ice-related activities.
Spring: Blossoming Nature and Outdoor Enjoyment
Spring in Germany is a season of rejuvenation and renewal. As the weather becomes milder, the landscapes burst with blossoming flowers and vibrant colors. It's the perfect time to embrace outdoor activities and witness nature coming back to life. Parks and gardens offer peaceful retreats, and the chance to sit outside and enjoy the fresh air and sunshine.
Spring is also a time for special events like spring fun fairs and markets, where you can immerse yourself in the cheerful atmosphere and enjoy local traditions. After the long winter, the arrival of spring brings a sense of optimism and a chance to reconnect with nature.
Summer: Sunny Days and Outdoor Adventures
Summer in Germany offers an array of outdoor opportunities and sunny days to explore the country's natural beauty. While German summers were traditionally characterized by intermittent rain, recent years have seen prolonged periods of sunshine and warmth. This shift has made summer a highly enjoyable season, ideal for outdoor activities and soaking up the sun.
Visitors can enjoy swimming in public pools, bathing in lakes, or even partaking in barbecues and picnics by the water. Theme parks are another popular attraction during summer, providing thrills and entertainment for families and adventure-seekers alike. Hiking enthusiasts will find numerous trails to explore, taking them through breathtaking landscapes and offering panoramic views.
Best time to visit germany :10 Reasons Why You Should Consider Moving to Germany
Best time to visit germany : Germany, with its rich cultural heritage and diverse landscapes, is a captivating country that offers a multitude of reasons to consider it as your next home. From efficient public transport and stunning natural beauty to a vibrant art scene and affordable living, Germany has a lot to offer. In this article, we will explore 15 compelling reasons why moving to Germany could be a great decision for you. (Best time to visit germany: 10 Reasons why you should consider moving to germany)
1. Efficient Public Transport:
Germany's renowned public transport system makes exploring the country a breeze. With punctual trains, dependable buses, and convenient trams in many cities, getting around becomes effortless. Exclusive bike lanes also make cycling a popular and affordable mode of transportation.
2. Breathtaking Natural Beauty:
From undulating hills and craggy mountain summits to enchanting forests and mighty rivers, Germany boasts breathtaking natural wonders. Whether you prefer the bustling cities like Berlin and Munich or tranquil villages tucked away in valleys, Germany offers a diverse range of landscapes to explore.
3. Affordable Cost of Living:
Germany provides a reasonably affordable place to live, especially when compared to other European countries. Renting a flat is relatively affordable, and property prices are usually more cost-effective than elsewhere in Europe. Low taxes for residents and higher wages make it easier to save money.
4. Rich Art, Culture, Music, Literature, and Architecture:
Germany is a treasure trove of art, culture, music, literature, and architecture. Iconic monuments like the Brandenburg Gate and Renaissance cathedrals stand alongside world-class museums with free or affordable entry. Concerts ranging from classical to rock can be enjoyed throughout the country, and Germany has produced great literary and poetic works.
5. Vibrant Nightlife:
Germany is renowned for its vibrant nightlife, with beer gardens, lively music venues, and a thriving club scene. Whether you prefer a traditional beer garden experience in Munich or the lively nightlife in Berlin, there are endless opportunities to socialize and have fun.
6. Free Education:
Germany is home to some of the best universities in Europe and offers free education to all, regardless of background. The government's investment in higher education ensures accessibility without the burden of high tuition fees, making it an attractive option for those seeking quality education without financial constraints. (Best time to visit germany: 10 Reasons why you should consider moving to germany)
7. Lower Homelessness Rates:
Germany has made significant progress in reducing homelessness through initiatives like the "Housing First" policy. With a focus on providing permanent housing, Germany has managed to decrease long-term public benefit dependence and improve the overall quality of life for its citizens. (Best time to visit germany: 10 Reasons why you should consider moving to germany)
8. Abundance of Green Spaces:
Germany embraces its natural surroundings, offering a plethora of green spaces for outdoor enthusiasts. From majestic mountain ranges to vast forests and sprawling rivers, the country provides ample opportunities for fresh air and beautiful landscapes. Thousands of parks and gardens can be explored, creating a vibrant atmosphere in urban areas.
9. Celebrated Beer Culture:
Germany's beer culture is legendary, with some of the oldest and most well-established breweries in the world. The country produces a wide variety of flavorful brews that cannot be found elsewhere. Traditional German beer gardens, with their communal tables, large benches, and lively atmosphere, offer the perfect setting to enjoy a cold beer on a summer day.
10. Excellent Public Safety:
Germany is known for its high level of public safety, making it a secure place to live and travel. Low crime rates and stringent security measures ensure peace of mind for residents and visitors alike. Highly trained police equipped with modern technology contribute to a trouble-free and enjoyable stay.
11. Central Location in Europe:
Located in the heart of Europe, Germany offers easy access to neighboring countries with diverse cultures and stunning landscapes. From cities like Berlin and Munich, it is only a few hours away from experiencing the best that Europe has to offer, making it an ideal base for exploring the continent. (Best time to visit germany: 10 Reasons why you should consider moving to germany)
Conclusion:
Germany presents a wealth of opportunities for those considering a move abroad. With its rich culture, dynamic lifestyle, job prospects, and the multitude of reasons mentioned above, Germany can provide a fulfilling and rewarding experience. However, as with any major decision, it is important to weigh the pros and cons and consider individual circumstances before making a final choice. Germany's unique blend of history, nature, culture, and economic opportunities undoubtedly makes it an attractive destination for potential expats. (Best time to visit germany: 10 Reasons why you should consider moving to germany)
Thank you for reading this article, and we hope it has provided valuable insights into why Germany could be your next home sweet home. Don't forget to subscribe and turn on the notification bell for more informative content. (Best time to visit germany: 10 Reasons why you should consider moving to germany)
Germany is a country that offers something special in every season. Whether you're captivated by the golden hues of autumn, the magical Christmas markets of winter, the blooming flowers of spring, or the sunny adventures of summer, Germany welcomes you with its unique charm and rich traditions. Consider the time of year that best suits your preferences, and embark on a memorable journey.(Best time to visit germany: 10 Reasons why you should consider moving to germany)