How to Travel in Germany: Unlocking the 49 Euro Ticket for Seamless Exploration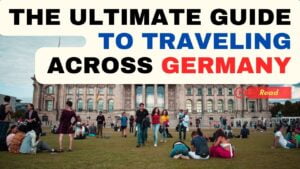 How to Travel in Germany: Unlocking the 49 Euro Ticket for Seamless Exploration: Discover how the 49 euro ticket in Germany revolutionizes travel, granting unlimited access to regional transport. Explore the perks, availability, limitations, and the government's motivation behind this game-changing initiative.
Germany, a land of captivating landscapes, rich history, and vibrant cities, has unveiled a groundbreaking solution for seamless travel across the country. Introducing the highly anticipated 49 euro ticket, an all-encompassing pass that allows you to traverse Germany's regions with unparalleled ease. In this article, we will delve into the intricacies of this transformative ticket, shedding light on its features, availability, and limitations, while unraveling the government's rationale behind this visionary endeavor.
So, what exactly is the 49 euro ticket? It serves as a flatrate pass for regional transportation throughout Germany. Referred to as the Deutschland-Ticket or D-Ticket, this game-changing pass enables travelers to embrace the nation's extensive public transport network starting May 1st. The prospect sounds intriguing, doesn't it? But where can you obtain this remarkable ticket? Since April 3rd, you have been able to purchase the ticket online via bahn.de, Deutschlandticket.de, or through the apps offered by regional transport companies in Germany. (How to Travel in Germany)
It is worth noting that the 49 euro ticket can only be acquired as a subscription. However, the beauty of this arrangement lies in its flexibility, as the subscription can be canceled on a monthly basis. Whether you wish to plan your journey well in advance or seize spontaneous opportunities, you can book the ticket for any month. It is important to bear in mind that the ticket's validity always commences on the first day of the selected month.
Now, let's address the elephant in the room—the cost of the ticket. As you might have guessed, it stands at an affordable 49 euros, unlocking a world of exploration at an enticing price point. And who can benefit from this golden opportunity? Contrary to initial assumptions, the 49 euro ticket is not exclusive to German citizens. In fact, it welcomes everyone, including tourists. Prepare to embark on an unforgettable journey, regardless of your country of origin.
How to Travel in Germany: Unlocking the 49 Euro Ticket for Seamless Exploration:
Naturally, you might be curious about where the ticket is valid and where its influence wanes. The D-Ticket allows you to traverse all local and regional buses, trams, metros, S-Bahn trains, as well as local and regional trains across Germany. However, it is important to exercise caution. The ticket does not cover long-distance coaches or trains, such as the Intercity IC, the IntercityExpress ICE, and the EuroCity EC. For these swift modes of transportation, an additional ticket is required. Fear not, though, as you can still embark on your adventure by opting for the slower regional trains, revealing the beauty of Germany's landscapes as you journey through time.
This exceptional ticket not only facilitates exploration within the city you find yourself in but also offers the chance to discover the magnificence of Germany as a whole. Many international travelers arrive in Frankfurt, and from there, Berlin beckons with just three train changes over a journey spanning approximately 8 and a half hours. (How to Travel in Germany 49 Euro)
Alternatively, you can venture north to Hamburg, enjoying a seamless trip of 4 hours and 20 minutes with only one transfer. If southern allure captivates you, Munich awaits. Prepare for three train changes, embarking on an adventure that will span roughly 9 and a half hours. It's evident that for long distances, you'll embark on a captivating voyage, indulging in affordable travel while savoring the captivating landscapes that unfold before your eyes.(How to Travel in Germany)
At this point, you may be intrigued about the motives behind Germany's creation of this remarkable initiative. It's only natural to wonder: Why is Germany doing this? The answer lies in a noble cause. The 49 euro ticket serves as the permanent successor to the 9 euro ticket, which was introduced during the summer of '22. The original ticket was a temporary measure devised by the federal government to alleviate the financial strain on citizens amidst rising costs of electricity, food, heating, and mobility.
Furthermore, it aimed to encourage a shift from cars to more environmentally friendly modes of transportation. Given the resounding success of the 9 euro ticket, the German states and the federal government have joined forces, contributing a total of 1.5 billion euros each, to bring the 49 euro ticket into fruition—a testament to their unwavering commitment to sustainable travel and accessibility. (How to Travel in Germany)
The prospects offered by the 49 euro ticket are undeniably exciting. However, like any endeavor, it comes with potential challenges. As the demand for regional transport rises with the introduction of the 49 euro ticket, Deutsche Bahn, Germany's national railway company, anticipates difficulties in adding more trains to accommodate the influx of passengers. Some may recall the crowded trains experienced last summer during the availability of the 9 euro ticket. It remains to be seen how the transportation system will cope with heightened demand. Nonetheless, the government and transport authorities are actively monitoring the situation to ensure the smoothest possible travel experience for all.
Now, the time has come to hear your thoughts. What is your opinion on the 49 euro ticket? Are you captivated by the prospect of limitless exploration across Germany's vibrant cities and breathtaking landscapes? We encourage you to share your insights and reflections on this groundbreaking initiative in the comments section below.
Source, Reffrence and Credit: Please Subscribe DW Travel Channel

In conclusion, Germany's 49 euro ticket opens the door to a world of boundless travel possibilities. With its affordable price, comprehensive coverage of regional transportation, and the opportunity to discover both urban marvels and natural wonders, this innovative pass is a game-changer for residents and tourists alike.(How to Travel in Germany 49 Euro)
By fostering sustainable mobility and enhancing accessibility, Germany takes a bold step towards a future where exploration knows no bounds. So pack your bags, embrace the allure of the 49 euro ticket, and embark on a journey that will leave you with lasting memories. Farewell for now, and we hope to see you on the roads, rails, and trails of Germany soon. (How to Travel in Germany)