Tonsillitis: Home Remedies for Soothing Relief and Prevention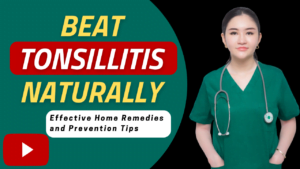 Discover effective home remedies for tonsillitis and learn how to prevent this condition. Consult a healthcare professional for accurate diagnosis and treatment options. Stay informed and prioritize your health.
Welcome back, folks! Today, we're diving into an important topic: tonsillitis. As always, I'm here to provide you with professional insights and recommendations. So, let's get started!
First and foremost, prevention is key when it comes to tonsillitis. It's all about maintaining good oral hygiene. Make sure to brush your teeth at least twice a day, floss regularly, and use a mouthwash to keep those bacteria in check. Remember to wash your hands before meals, as this simple habit can help prevent the spread of infections. Additionally, if you find yourself in areas with high pollution levels, consider wearing a mask to protect your respiratory system from harmful particles.
Tonsillitis symptoms
Now, let's talk about recognizing the symptoms of tonsillitis. Common signs include a sore throat, pain or discomfort while swallowing, frequent fever, and sometimes even difficulty breathing. If you experience these symptoms, it's crucial to consult a healthcare professional for an accurate diagnosis and appropriate treatment.
Tonsillitis treatment
When it comes to home remedies for tonsillitis, there are a few options you can consider. One effective remedy is gargling with warm saltwater. This helps reduce inflammation and can provide temporary relief. Another option is consuming warm turmeric milk, known for its anti-inflammatory properties. It can help soothe the throat and alleviate discomfort.
However, it's important to note that home remedies should not replace medical advice. If your symptoms persist or worsen, it's crucial to seek professional help from an ear, nose, and throat specialist. They will be able to provide a thorough evaluation and recommend the most suitable treatment options for your specific condition.
In conclusion, while home remedies can provide temporary relief, it's essential to consult a healthcare professional for a proper diagnosis and guidance. Remember, your health should always be a top priority.

If you found this video helpful, don't forget to subscribe to our channel for more informative content. Stay informed and take care of yourself!