Improve mental health: Here are 10 ways to improve
your mental well-being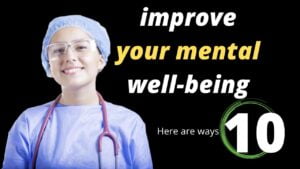 Improve mental health: Positive psychology, or simply positive psychology, is the science of how people perform well and thrive. It's about increasing quality and efficiency while also increasing job satisfaction and motivation.
Here are 10 ways to improve your mental well-being
1. Be grateful
There are many ways you can be grateful. You could, for instance, take a piece of paper and list all the things that you are grateful for. The classic positive psychology exercise of writing down three things that make you happy each day is one of the most popular. You can also write letters to people you are grateful for in your life. Finally, you can work on being more thankful to those who enrich your life.
2. More love
Barbara Friedrickson, the author of "Love 2.0", gives a biological explanation for love in her book. Her definition of love is a series "micro-moments" of affection. These moments are brief, fleeting moments of warmth or togetherness. These moments can be explained biochemically. They lead to psychological growth, stronger relationships, increased resilience and greater efficiency. (Improve mental health)
The good news about moments of love is not only shared with a few people, but also shared between others. It is the sum of all micro-moments, not their origins, that makes a difference. When two people have positive feelings and synchronicity, the miko moments are when they share them. Having eye contact and where they both care about each other. (Improve mental health)
3. Sleep
Our mood is affected by how well we sleep. Not only is it important for our bodies' recovery, but also for reducing negative thoughts. Sleep deprivation hits the brain's positive memory area more than the one where negative stimuli are created.
4. Help others
Your happiness can be improved by focusing on the happiness of others. Doing a good deed is one of the best ways to increase your happiness. This is also true when we purchase experiences for others rather than buying clothes, shoes and other products for ourselves. Giving gifts, for example, increases our joy. (Improve mental health)
Improve mental health
5. Spend time with the people you care about
Our happiness is dependent on our close relationships. While many people dream of winning the Lotto's big prize, studies show that strong relationships are more important for our happiness than income fluctuations.
6. Exercise
It's a fact that exercise can make a big difference in our mood. Exercise increases endorphins and proteins, which can help us feel happier. An exercise program was included in the treatment of depression patients. The risk of relapse was lower for those who exercised than for those who didn't. Exercise isn't just for people suffering from depression. Exercise can also help you change your perception of yourself and your body. Even if we don't lose weight we feel better about ourselves and our bodies. (Improve mental health)
7. Smile
Although it may seem obvious, smiling can make you happier. A fake smile isn't worth much. It is possible to smile more if you think about people, situations, and experiences that make your happy. You must smile with sincerity. This isn't just a fad; research shows that smiling can improve your flexibility as well as your ability to think holistically.
It is a way to share the joy of others and build stronger relationships. It is simple to tell someone about a positive experience.
Respond constructively. Share the joy of that person WITHOUT putting wormwood in their cup. E.g. E.g. If it were me, I would get stressed out. "I'm just saying…
Be active in your responses. lively, energetic, look for eye contact, etc. Instead of staring at the screen and muttering "oh yeah" without thinking, that's boring. Is there any more coffee ..?
9. Meditation
Meditation is a popular method for stress management and well-being. A study that examined 16 people before and during a meditation program showed an increase in compassion and self-awareness, and a decrease in stress. This helps you to feel calmer, which can help increase your happiness. (Improve mental health)
10. Your strengths are your strength
It is crucial that you do what you love in your everyday life. Numerous studies have shown that being aware of your strengths and able to apply them in daily life at work and home will increase your self-esteem and happiness. Your mental and physical health will improve as well. (Improve mental health)