Chiba Jets Funabashi: Streaming live on Basketball LIVE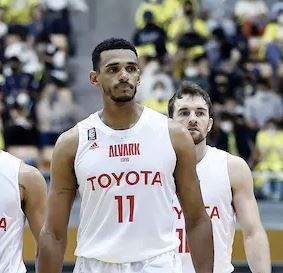 Chiba Jets Funabashi: Streaming live on Basketball LIVE: On October 7th, the second round of the B1 League was held, and Alvark Tokyo played against Chiba Jets .
In the notable match held at Yoyogi National Stadium First Gymnasium, home A Tokyo opened the scoring with Tanaka Tanaka 's goal. However, right after that, Chiba J's Yuki Togashi scored a 3-point shot, and after that, it was a close game with back and forth.
Still, when A Tokyo made a 14-0 run in the middle stage and pushed Chiba J away, Sebastian Sais also scored consecutive points and finished the first quarter at 26-12.
In the following 2nd quarter, A Tokyo scored 6 consecutive points from the start and expanded their lead. In the middle stage, the difference was temporarily 21 points, but after that , Chiba J led by Gavin Edwards and Vic Law caught up, and the game was turned back at 44-31.
In the 3rd quarter, in addition to Yasuki Kosakabe 's basket count , A Tokyo's score on the inside of Ryan Rossiter and Alex Kirk further widened the point difference.
Chiba Jets Funabashi: Streaming live on Basketball LIVE:
However, when Chiba J dunked in a row, they were able to sink 3 points in a row in the middle stage, and the difference was 10 points. Still, A Tokyo, who kept the lead with Justin Cobbs and size scores, went to the final quarter at 64-51.
In the 4th quarter of the game, the pace of scoring each other drops, but A Tokyo keeps the lead. At the end of the match, Kosakabe showed his presence by scoring two 3-pointers. At the end, A Tokyo, who did not give up the lead, won 78-66.
流れるようなパスからフリーでワンハンドダンク!!
A東京がさらにリードを広げる🔥@sebassaiz @ALVARK_TOKYO

📡バスケットLIVEで生配信中https://t.co/s1QoHp47r2#Bリーグ pic.twitter.com/QCQOzkReAU

— B.LEAGUE(Bリーグ) (@B_LEAGUE) October 7, 2022

A Tokyo, who won his second win this season, Kirk scored 19 points, Size scored 17 points and 13 rebounds, Cobb scored 13 points and 7 assists, Kosakabe scored 12 points, and Rossiter scored 7 points, 13 rebounds and 5 assists.
On the other hand, Chiba J struggled with 16 points and 7 rebounds for Law, 15 points and 6 rebounds and 4 assists for Edwards, and 15 points and 4 assists for Togashi, but suffered the first loss of the season.
Match Results Alvark
Tokyo 78-66 Chiba Jets (@ Yoyogi National Stadium First Gymnasium)
A Tokyo | 26 | 18 | 20 | 14 | = 78
Chiba J | 12 | 19 | 20 | 15 | = 66